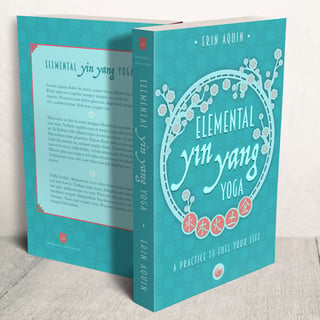 If you missed it, I have been leading a 20 Day Yoga Challenge this month. A group of my yoga students and I have committed to doing at least 20 minutes of yoga each day for 20 days. It has been refreshing to share my practice with others and also to stay connected to the physical expression of Yin Yang Yoga.
However, physical yoga (yoga asana) is the tip of the iceberg.
On July 19th I am taking this exploration beyond the mat and hosting a free weekly online bookclub. We will be going through my newest book Elemental Yin Yang Yoga together and you can take part even if you haven't read the book yet.
Whats the point of this bookclub?
I don't know about you but when I read a book on yoga theory or lifestyle, I come up with a lot of questions. As an author I do my best to answer those questions but responding to emails and having very little time to chat with students at the end of class doesn't feel like enough.
So I am making myself available to everyone who registers and joins the conversation. Together we will share insights, ask questions and virtually "meet" like minded yogis who want to explore the benefits of Elemental Yin Yang beyond the yoga mat.
Why should you sign up?
Sure, you could just read the book on your own.
But if you sign up you will get access to an exclusive page where you can not only ask me specific questions about the book but also read it along with me and a community of others with the help of my personal notes and reflections.
There are also a few perks to registering for this free content. You will get:
a free intro chapter to the book to get your started
access to a free Elemental Yin yoga video
a free Elemental Yin Yang audio class
a promo code for discounted Float sessions with our friends at Zee Float
the chance to win a private online yoga or coaching session with me
These are my gifts to you for your interest and participation in the bookclub.
Register here before July 19th to get access to the club and all the bonuses!
We are also hosting an online contest. If you share the link: www.aquinyoga.com/bookclub on Facebook, Instagram or Twitter with the hashtag #elementalyinyang you will receive an additional entry into our draw as thanks for spreading the word.