What is Superabound About?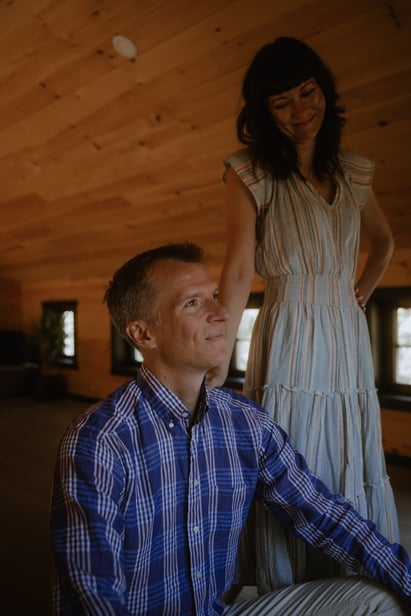 Finding your purpose, trusting the Universe and reaching new heights are what Superabound helps you do. You don't need to choose between having a life and running a business. We help leaders find harmony and achieve success without burning out. This is the magical part, because once you achieve this inner and outer harmony, there is no limit.
Meet the founders: Erin Aquin and Steve Haase
From Erin
My name is Erin Aquin, I'm a Master Certified and Deep Dive Coach, I have written 3 books and co-hosts The Superabound Podcast.

But it took me a few tries to find my own way to Superabound.

In my early twenties I worked in the music industry in artist management and promotions. I lived on a tour bus for weeks at a time managing tours for award winning musicians.

After life on the road, I shifted my focus and became a Yoga Teacher and Acupuncturist. I worked in the spiritual and wellness world for over 16 years before having a health crisis of my own that led me to take a step back and decide more consciously what I wanted my work and life to look like.

Coaching my clients quickly led me to create my own "true love business" through co-founding a company alongside my partner Steve Haase.

As a life-long spiritual student and Coach, I support my clients to realize the life the Universe is dreaming for them.

Creating a thriving business and life isn't something that can be done separately in two parts. For your business to be sustainable and scalable, it must be created in harmony with the lifestyle you want.

Too many Coaches and entrepreneurs waste their precious time and energy worrying about their business and don't make sure it is built on the foundation of a life they enjoy. I help clients create a life full of love, and success, and do it in a way that feels like magic.
From Steve
I co-founded Superabound to share the skills and insights I learned leading global teams at hypergrowth tech companies (Shopify, HubSpot, and my own startup) for over a decade. The merchants my teams supported generated hundreds of millions of dollars for their businesses. One of the greatest feelings in my life is watching my customers succeed wildly.
I'm a Master Certified Leadership Coach and bring a process of inquiry and introspection along with proven leadership tools to help solve any problem my clients are facing.
My biggest passion in life is to discover what is possible at the edges of human development—for my clients, their businesses, and myself. And I've found that my clients' greatest steps forward come through a combination of sincere personal inquiry combined with practical business-building tools.
Book a free consultation with us here to find the perfect program for you and your business.