Learn the 5 Essential Meditations for Business Owners and Entrepreneurs
Don't Let Stress Make Your Business Decisions: Get the 5-Day Meditation Exploration,
Just $18
As an entrepreneur or leader, all the responsibility is on your shoulders and there is no place to unplug from the performance and metrics of your business. And when you're always on, you can't recharge, make room for new ideas, or enjoy success when you create it.
The 5-day Meditation Exploration for Entrepreneurs and Leaders will give you the guidance and space you need to truly unplug and discover a deeper source of strength and creativity.
Erin and Steve have been meditating for decades and have trained meditation instructors to lead others towards their own centering stillness.
You will have 6 months of access to the recordings so you can use them to create an ongoing meditation practice, even if you've tried and given up in the past.
Step 1: Join the Exploration and set aside the time to meditate every day for 5 days.

Step 2: Join the live sessions or watch the replays and learn five specific types of meditation to manage your mind and energy for the results you want in your business and life.

Step 3: Repeat the practices as often as you like to create your own meditation habit so you can lead from a more centered and sustainable place within you.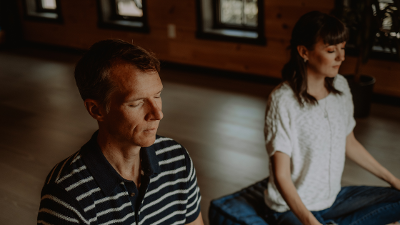 When you don't make space in your life to look after your inner wellness, you're running your business on adrenaline, reacting out of fight or flight rather than being the deliberate, confident leader you know you can be.
You've probably heard of the multitude of benefits to practicing meditation, including reduced stress and greater resilience. But most people never find a way to meditate that they feel drawn to enough to make it a habit. Joining the Meditation Exploration will give you the insights, experience, and inspiration to create your own lasting meditation practice.
The Meditations
Day 1: Energy Reset to meet the week ahead
Day 2: Relaxation meditation to unwind
Day 3: The wisdom of your Future Self
Day 4: Letting go for creativity
Day 5: Self-Worth just as you are
Join the Meditation Exploration today. Just $18 for unlimited access for 6 months